THE BOOK LIGHT
$44.95

$44.95

Save

$75.04
---
---
LED FOLDING WOODEN LIGHT BOOK LAMP 
Award Winning Design Product of the Year
Are you looking for a way to set up that romantic mood? Do you just want to add a certain ambience to your space? Let this innovative foldable wooden book shaped lamp take you to a whole new world.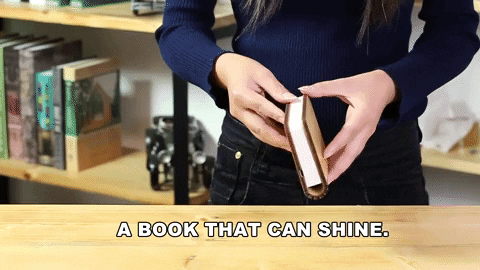 Creates relaxing ambient lighting.
 Portable; take it anywhere. 
 Made of Tyvek paper making it very durable and waterproof.  
 Has a built in USB rechargeable lithium-ion battery giving you up to 6 hours of beautiful light. 
 LED light bulbs; meaning they do not have to be replaced.
 Has inbuilt magnets so you can stick them to anything metal.
 Rotates 360° so you can display the lamp in any angle you desire.
When you talk about creativity, this lamp is the very definition. It looks like a book on the outside but once opened up becomes a beautiful lamp. This is a great gift for anyone who has great taste in home décor. Truly this lamp is a must have for every home. 
Specs
Super Long 6 hours + battery life 
LED bulbs - no need to replace! 
Made of Tyvek paper - water resistant and very durable 
USB Rechargeable 
1000ma Lithium-Ion Battery - Safe + Tested 
360 Degree Ambient Light 
2 Year Unlimited Warranty 
🚚 FREE SHIPPING WORLDWIDE 🚚